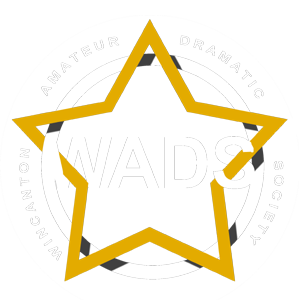 Where Community Spirit Isn't Just An Act
4th March 2022
That's all folks

Well what a weekend we have had last weekend. Starting Friday night with our first performance of Robin Hood and the Babes in the Wood a panto by Ben Crocker and directed by Sarah Adams and Co-directed by Jayne Bentley.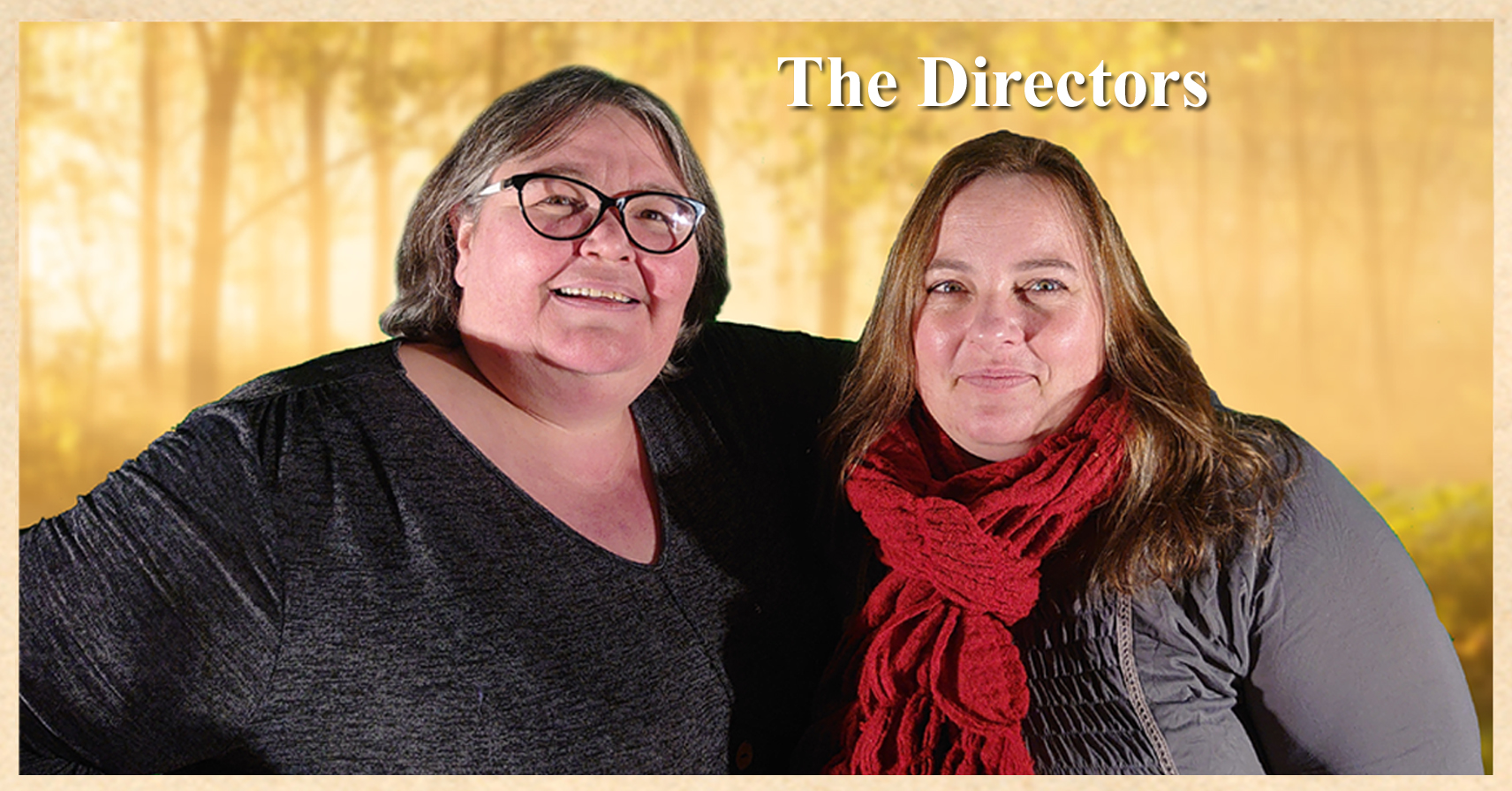 After nearly 6 months of rehearsals and trying to keep everyone safe and avoid the coronavirus, the first show was up on us and it was time to put all of our hard work to the test.
7.30pm on Friday the 25th Feb. The lights went up and the music began with the sight of our chorus members Dani, Clare, Alana, Yosef, Poppy, Owen along with the two rabbits payed by Hope and Grace lit up the stage.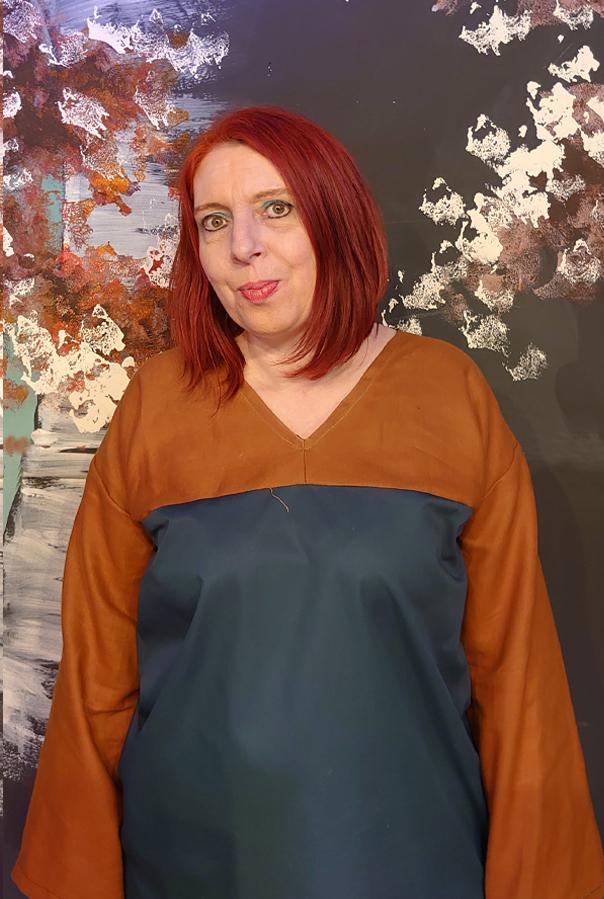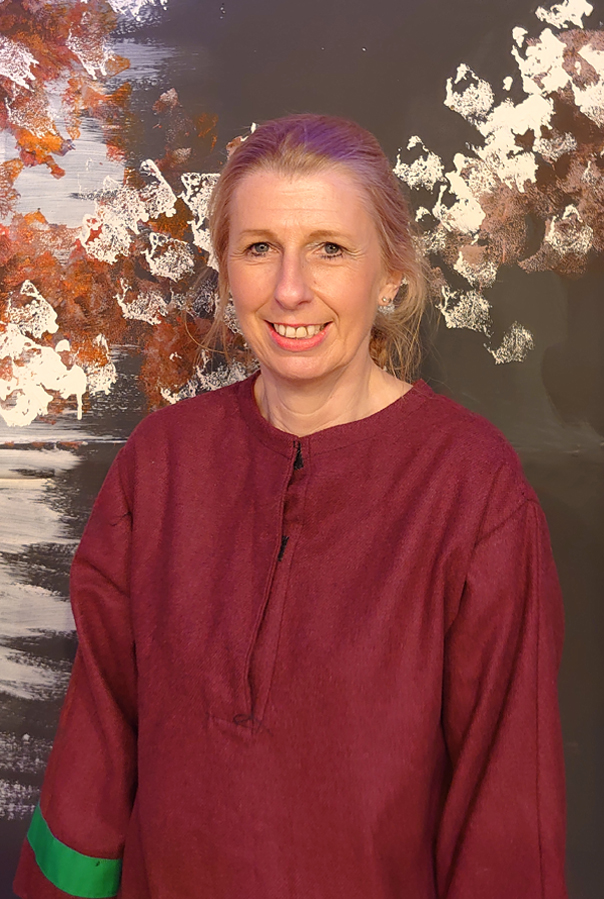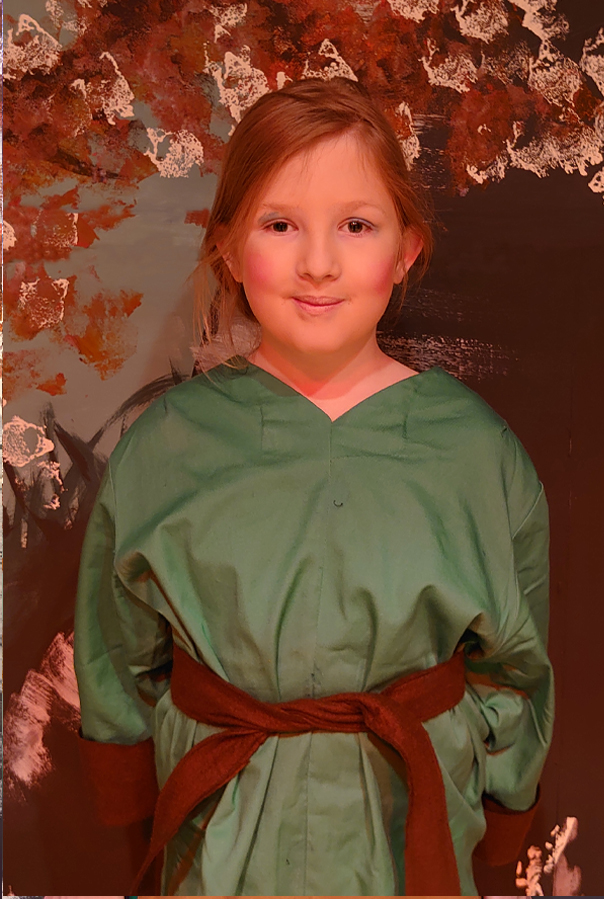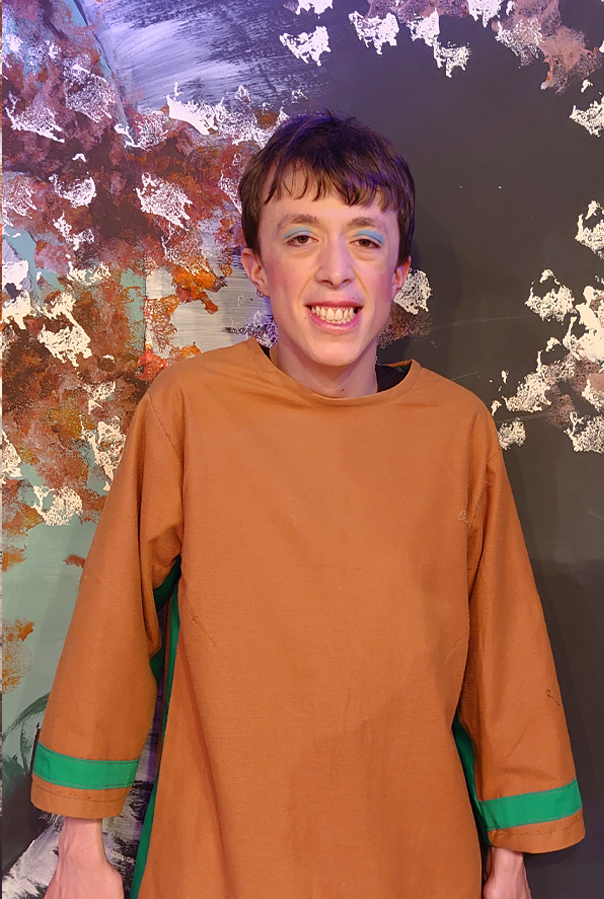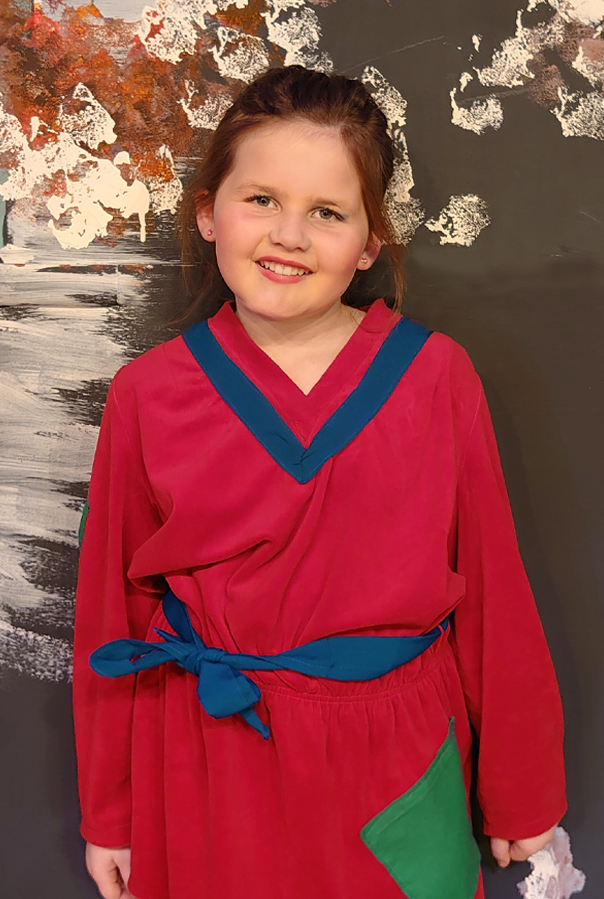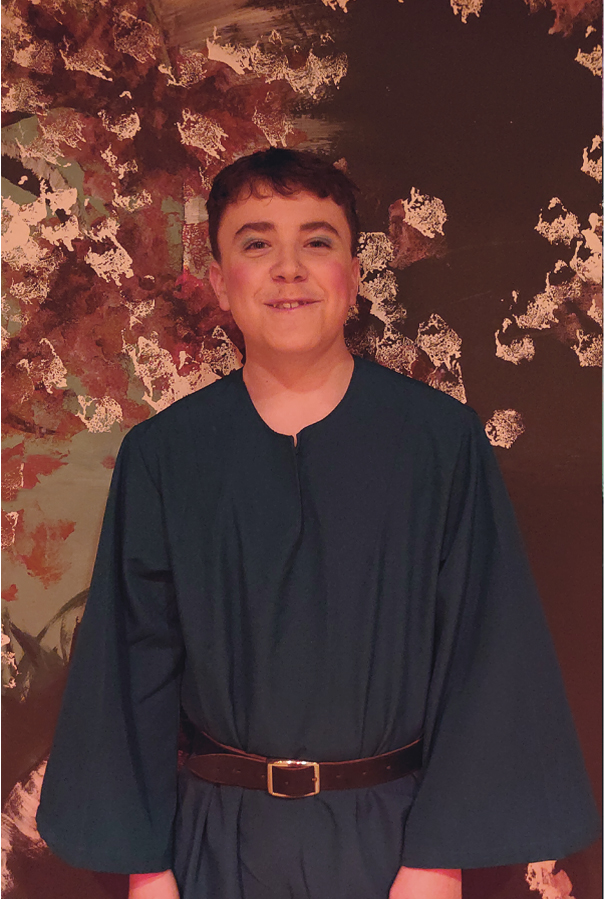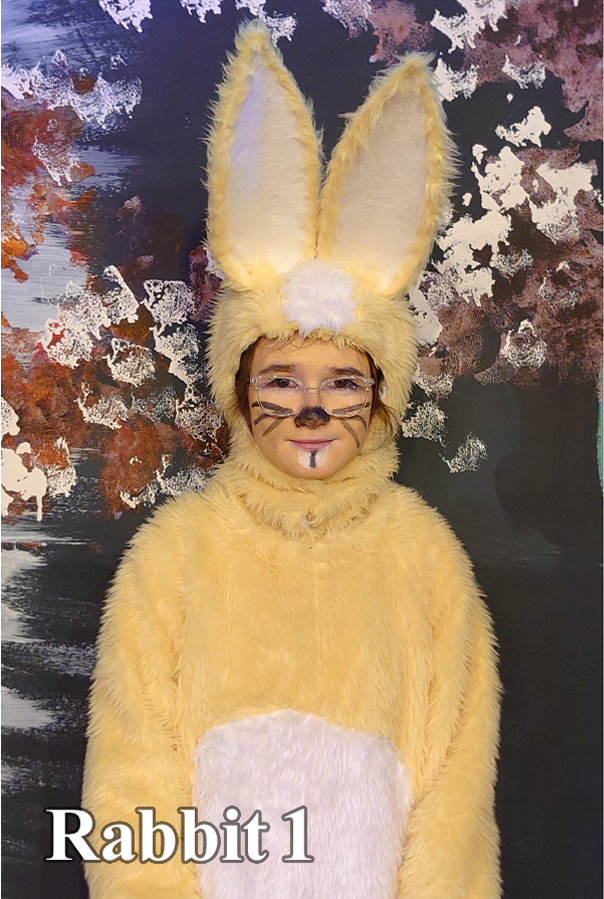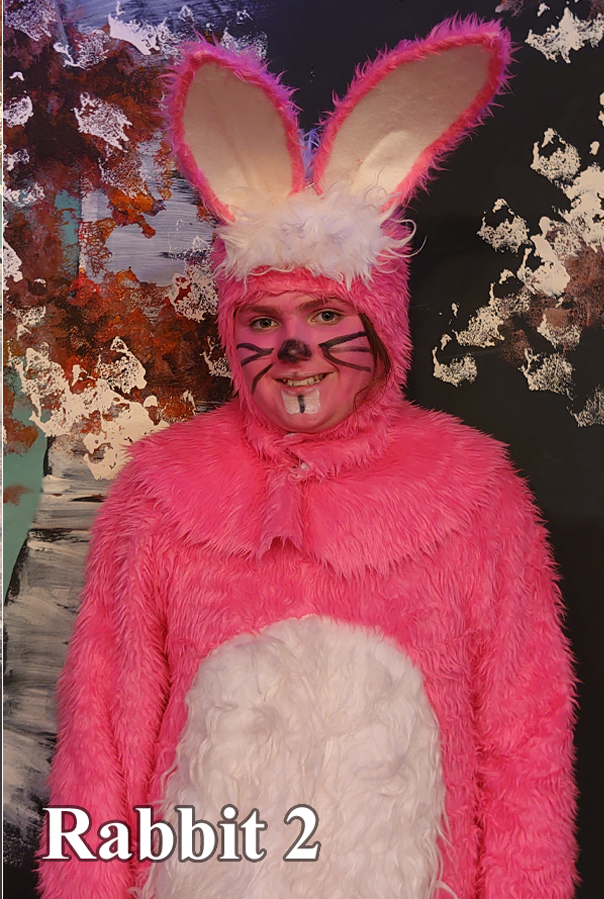 It wasn't long before they were joined by James playing the part of Alan-A-Dale as he began to sing to the music of 'I've got a feeling' a great feel good start to our local panto.
After being asked to sing another song by the two rabbits Alan went into a rendition of 'Wake up' by the Boo Radleys. As the chorus kicked in the cast members, already on stage, were joined by Robin Hood played by Amanda Graffham, Little Joan played by Charlie Bentley and Friar Tuck played by Paul Adams.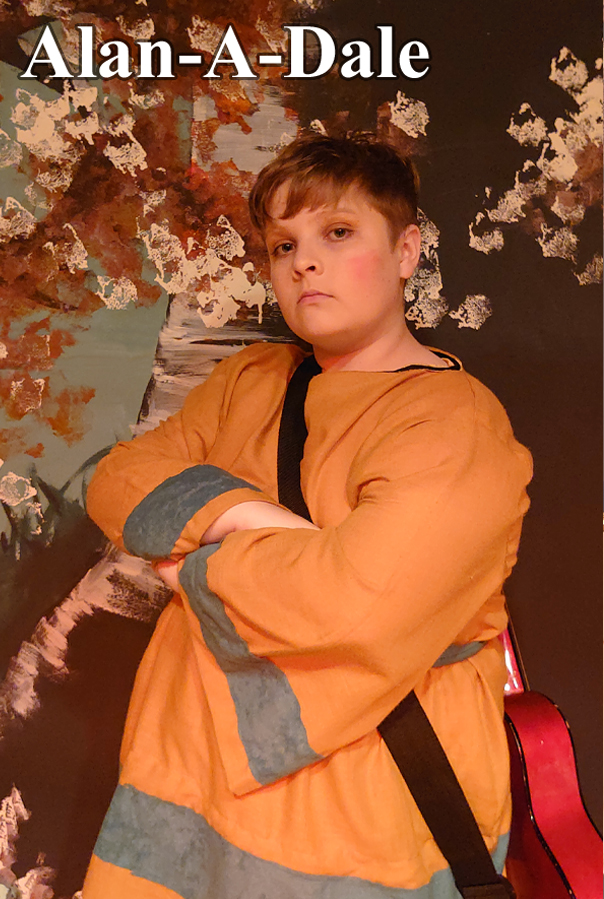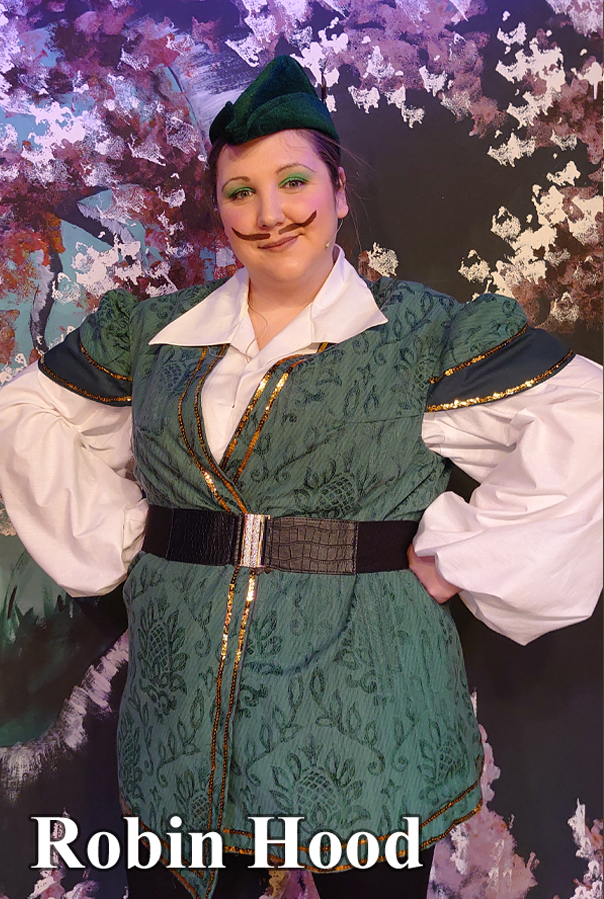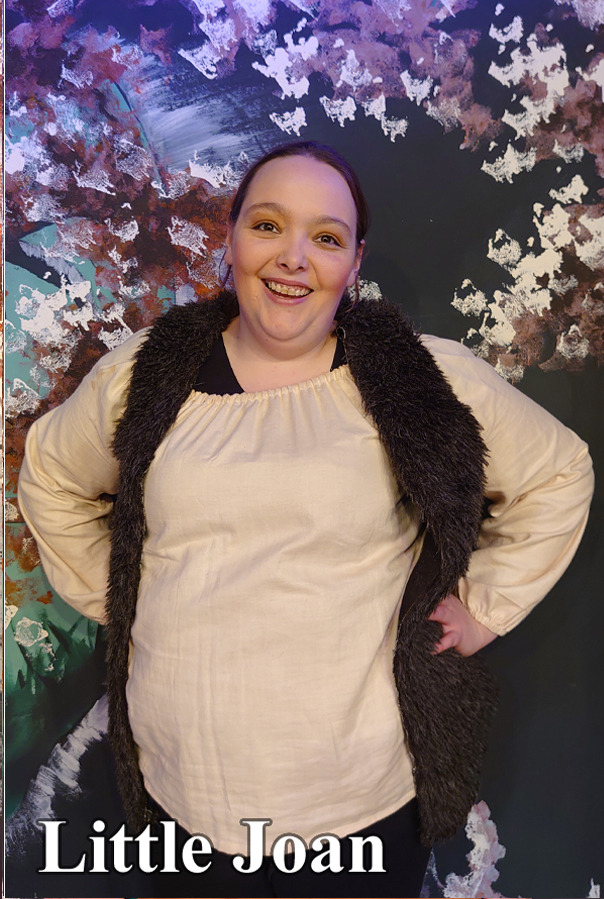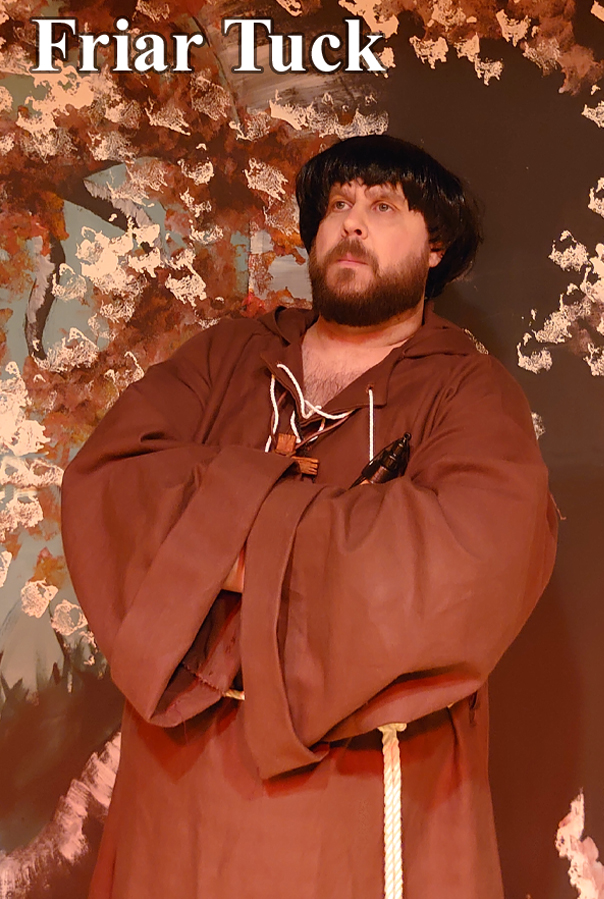 The audience listened intently as the cast spoke to each other and the audience before throwing sweets into the crowd as they spoke the words 'steal from the rich and give to the poor'
It wasn't long before Maggie Benson playing Much ran on stage infoming them all of a young man coming through the forest and as they all hid, apart from Tuck, the leading lady, Maid Marion played by Cara Bentley entered the stage disguised as a man and was confronted by the outlaws.
After beating all of the merry men, apart from Robin himself, they all realised that the young man wasn't what he seemed and discovered it was Marion. She joined them as they all exited the stage.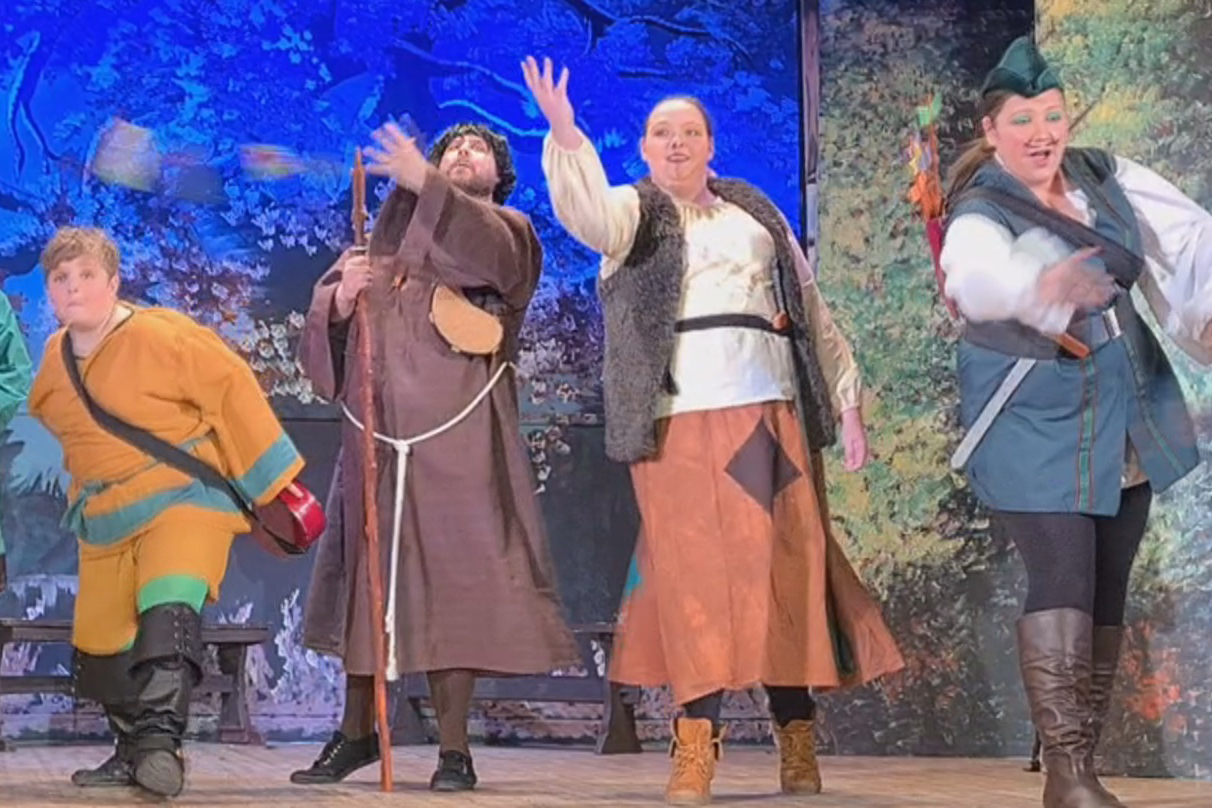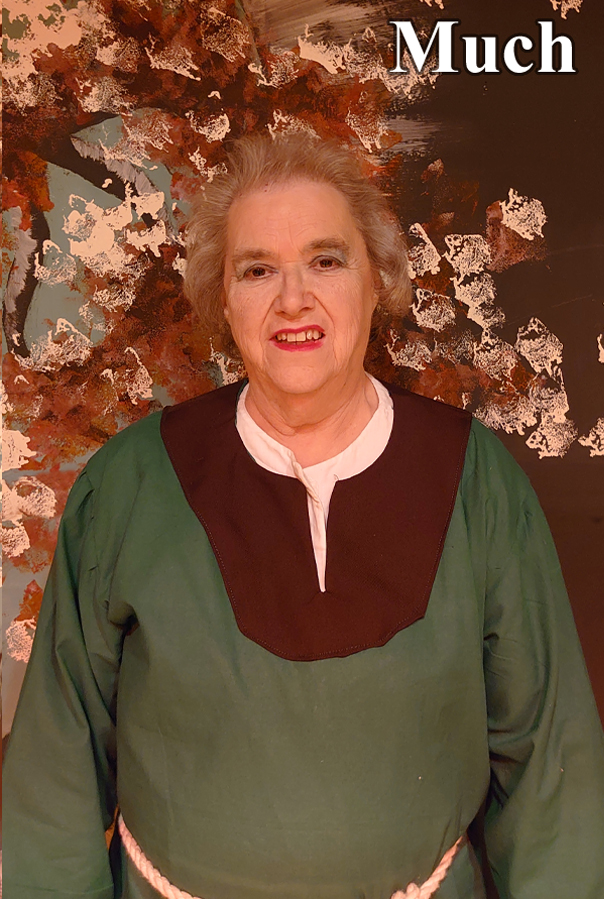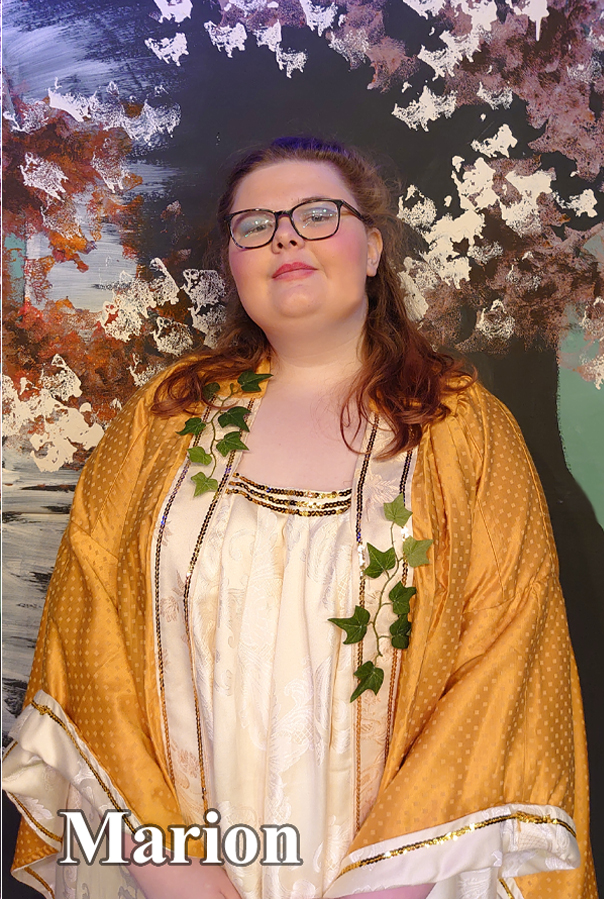 Moments later the familiar sound of Mike Benson could be heard. Playing the dame many times in the past, this year was no different as he entered the stage as Winnie Widebottom in one of the costume director's Jenny Kingston's amazing over the top dame outfits.
Mike was doing what he does best, engaging the audience and singing and dancing across the whole stage.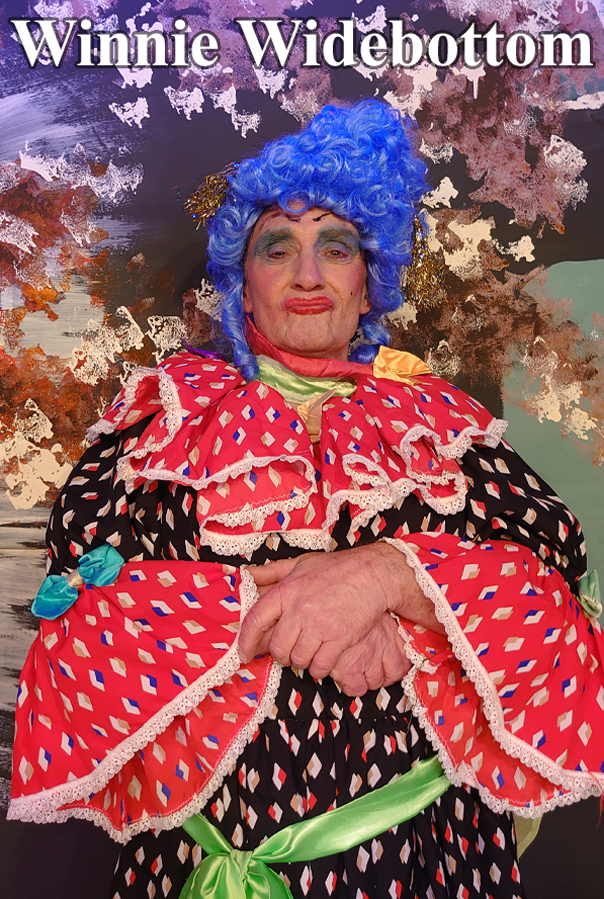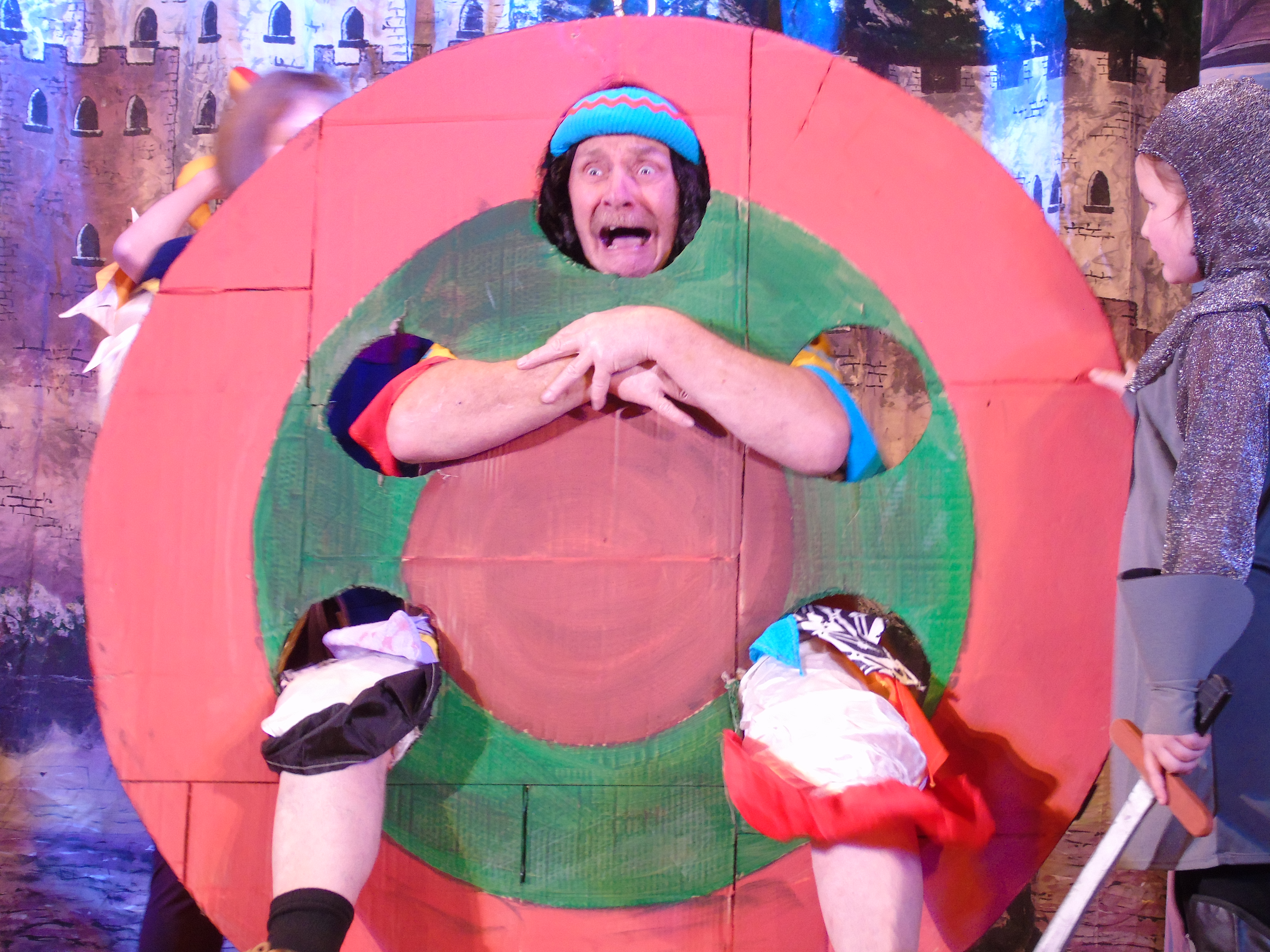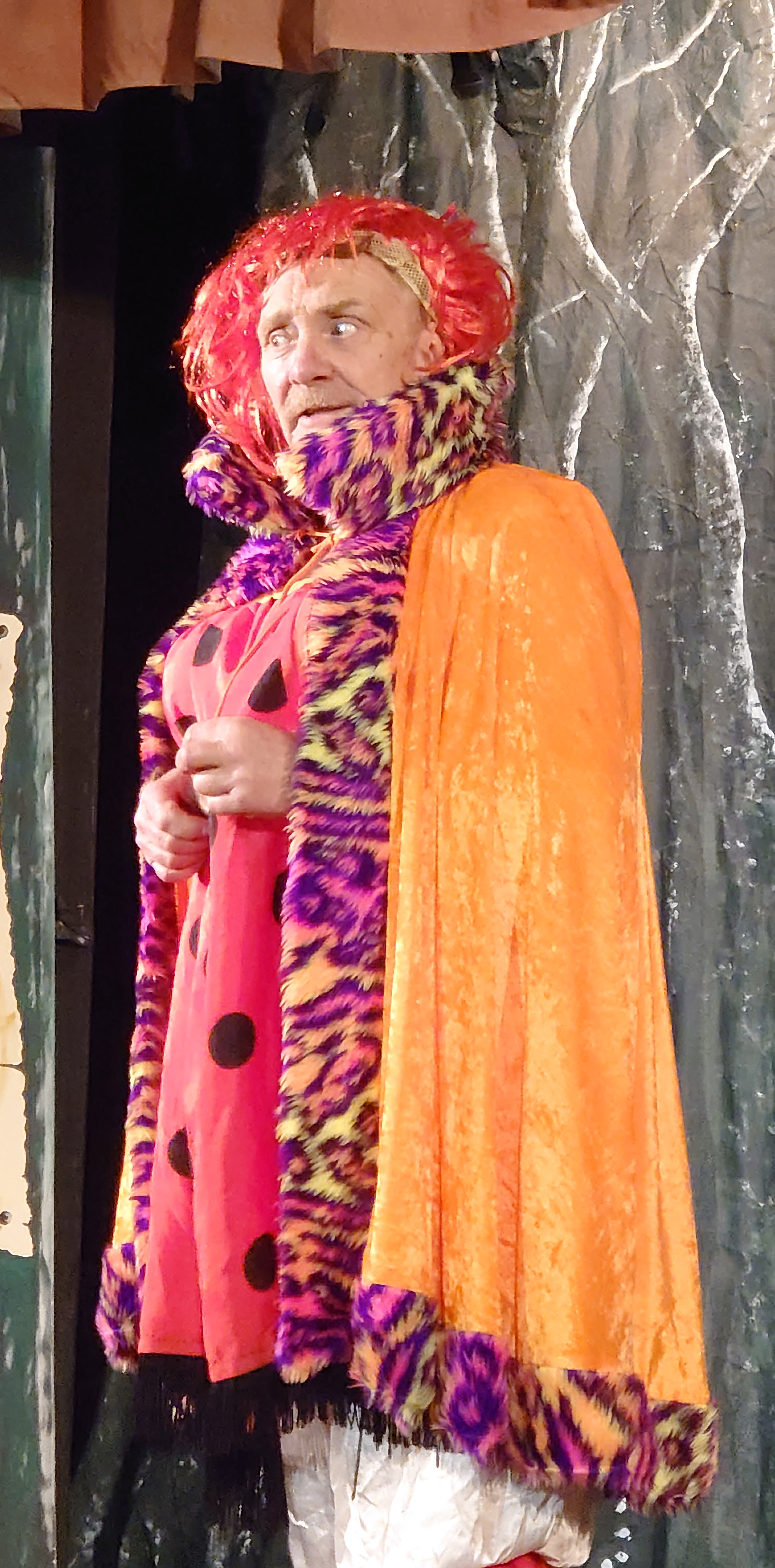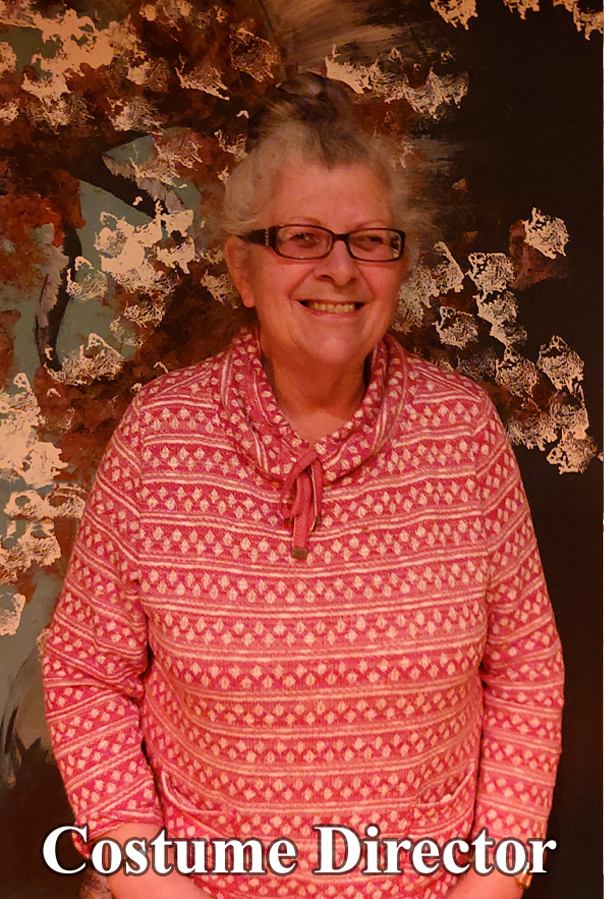 The next scene saw our baddie for the first time played by Hazel Perret, the Sheriff of Nottingham along with his sidekick Dennis played by Dawn Henson.
Hazel played the part of a typical baddie reacting to the audiences boos and hisses and even shouting at the stage crew when something fell down accidently. As for her side kick Dennis, he would cower away from his master and whimpered and cried when being called names.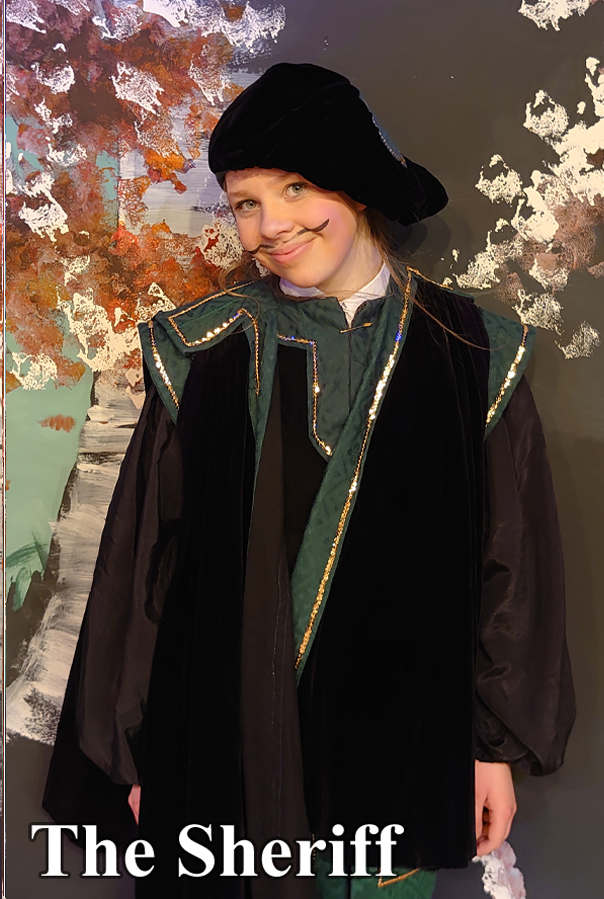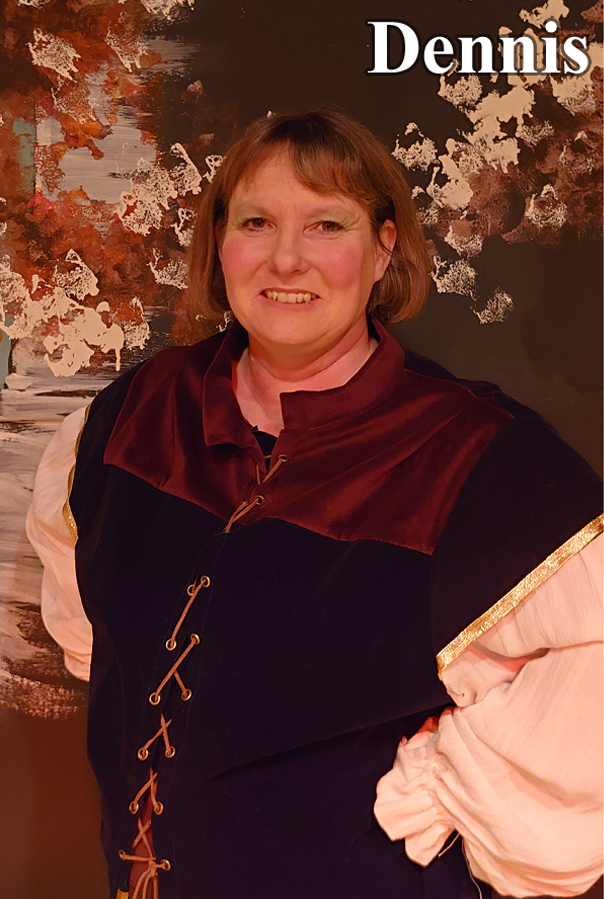 The last two Characters were the Babes themselves Tilly and Tommy. These were played by Layla and William. As younger members of the group they played their parts well as the playful niece and nephew of the sheriff.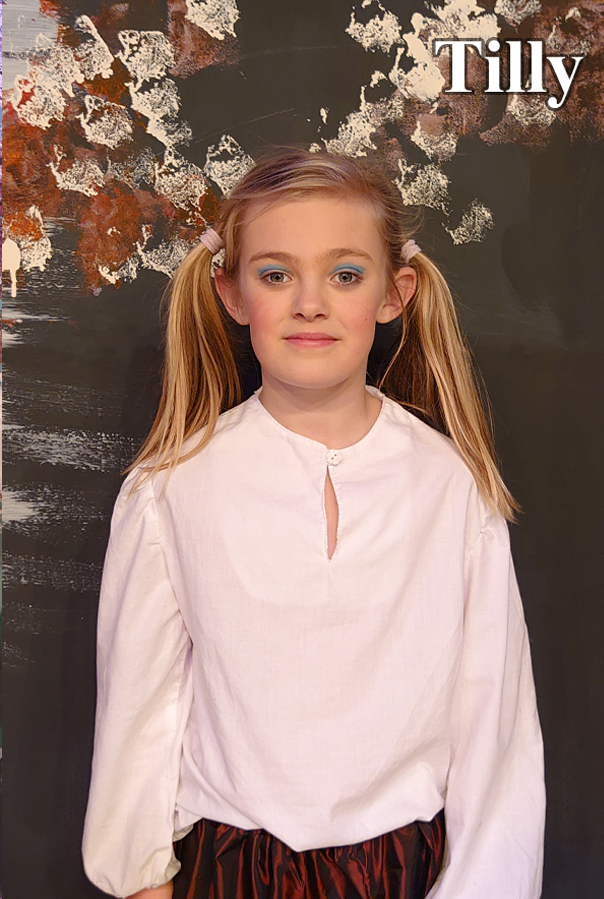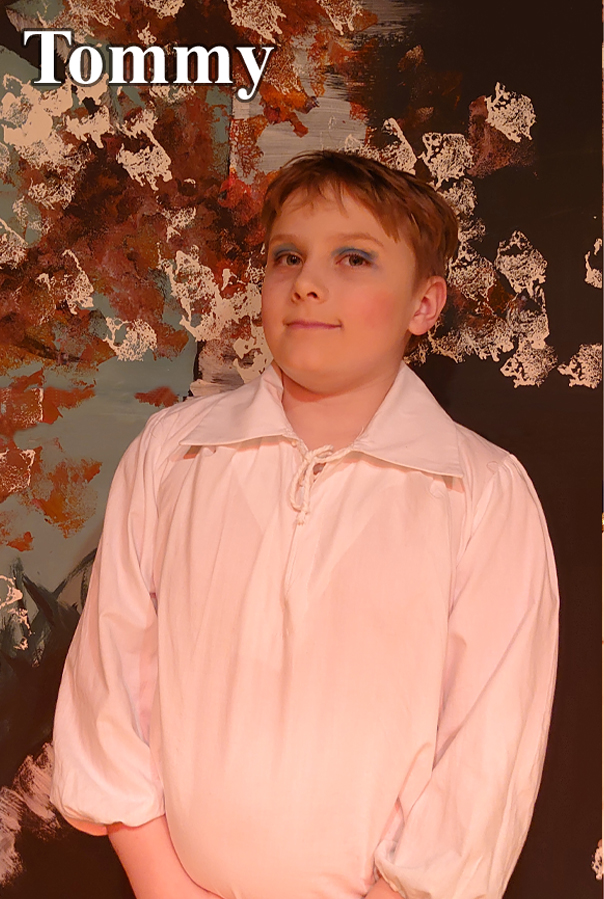 All in all this panto had everything that you need in a pantomime. From a wide selection of song and dance. Comedy sections and even a dame on a spinning wheel target.
The wheel target which was a bit of a logistical nightmare was well worth the finished effect and was excellently made by Mike who also painted the fantastic back wall, curtains and flats.

The backstage crew worked tirelessly behind the scenes moving the flats and props between scenes. The crew which consisted of Gina Pike as stage manager along with Emily and Elle Chubb and Clare Barker seemlessly set the scenes in quick time making the show move fluidly without long pauses.
Working with the tech crew lead by Brian Sales that looked down from the tech room way up in the heavens at the back of the hall they new when the stage was ready and when the next piece of music needed to start and lights to go up. Backed up by Luke Read, Siobhan Domoney and Raymond Lovell who also made a selection of props.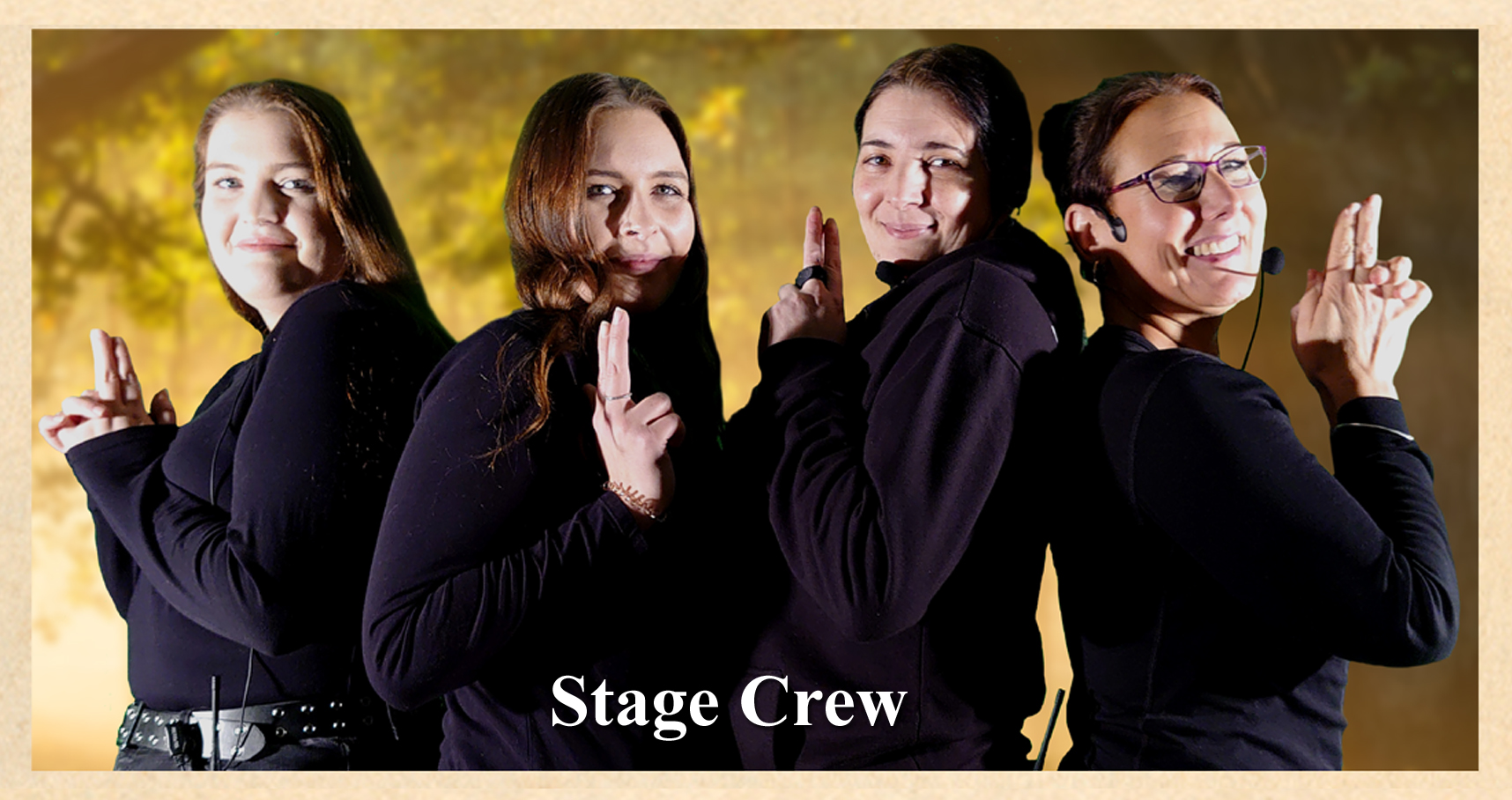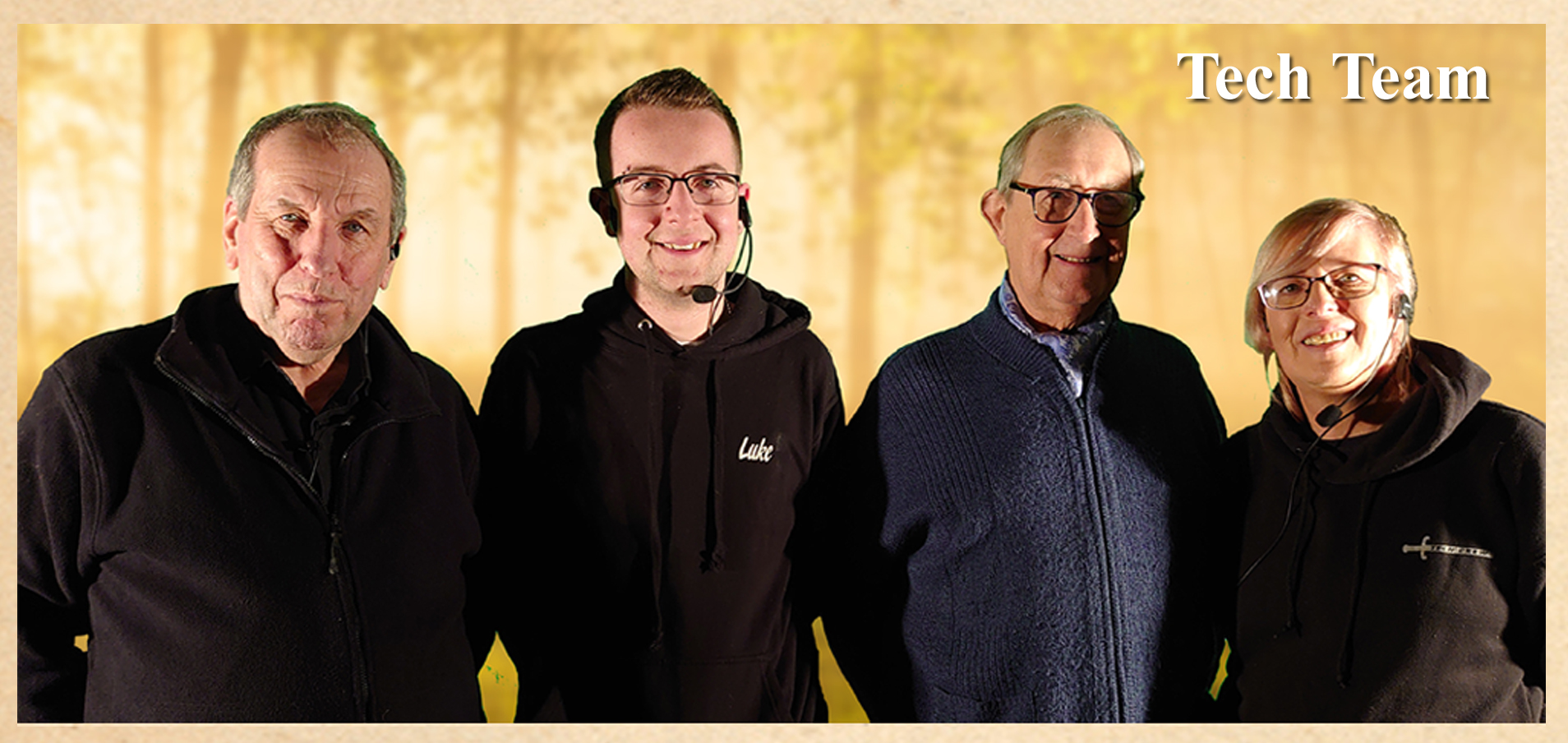 All in all the panto was a great success! The audience, over the 3 performances, seemed to enjoy joining in with the songs and booing when the baddie would appear.
All the cast and crew enjoyed performing it and after such a long wait and after spending so many Sunday afternoons rehearsing it all was well worth the wait but as always seemed to be over far too soon.
Well, all that's left to be said until next time is, we hope those of you who were able to come and see it enjoyed it and we look forward to our next show.
Paul & Gina
25th February 2022
Showtime!
It may have taken 2 years in the making but tonight is the night. Cast have all worked hard to learn their lines and the nerves are now setting in.
7.30 tonight the house lights will go down as the stage lights rise, music will begin and then it all starts. It's taken 2 years for our show to be able to be performed and we hope it's as enjoyable as it has been making it. Although it's not all gone to plan and something might go wrong, that's what makes a panto even better.
With the stage crew prepared and on point and the tech crew doing what's needed of them in the tech room, it's now time that the directors can see all their hard work and direction coming together.
The only sad thing this year is that the Cinderella Awards are not going ahead so all our hard work can not be seen by the judges and the cast and crew awarded for all that they have created.
So please come and see and support these local talents
Tickets still available
https://www.ticketsource.co.uk/whats-on/wincanton/wincanton-memorial-hall/robin-hood-the-babes-in-the-wood/e-xexoyv?fbclid=IwAR1e5RDGWjQXrehidXs5vat60jvwJiq0w5tE3_EMeBPpDHqj9AoowsQA5iI
Paul & Gina
4th February 2022
It's 3 weeks until our first performance of Robin Hood and the Babes in the Wood.
We are all very excited about this panto after not been able to perform it last year.
This will be the directing debut for Sarah Adams as she directs her first WADS panto along with veteran WADS member and chairperson, Jayne Bentley, as co-director.
Our cast this year comprises of a variety of ages, from chorus up to the lead roles.
Newcomer Hazel is our Sheriff of Nottingham along with Dawn Henson as the Sheriffs downtrodden sidekick Dennis.
The Hero of the show, Robin, is played by Amanda Graffham who has bags of panto experience, as our principal boy. Robin will be accompanied by a band of Merry Men which includes James Adams as Alan-A-Dale, a bard that tells stories of Robin. Charlie Bentley, with equal panto expertise, as Joan the daughter and now outlaw of little John, she is determined to make the Sheriff pay.
Paul Adams as Friar Tuck, this will be his second role on stage with WADS after being so well received as The Fridge in Treasure Island. The good hearted Friar doesn't always believe that violence is the best way to sort things out. Instead a good meal maybe better.
Grace who is no stranger to performing with WADS has returned as one of the rabbits along with newcomer Hope.
This year's dame Is Mike Benson definitely not a newcomer to the group he has performed many times with WADS and is a firm stalwart. He returns this year as Winnie Widebottom. The nanny of Maid Marion played by Cara Bentley (part of the Bentley/WADS dynasty) is the love interest of Robin.
This just leaves the Babes themselves. William Adams as Tommy has been with the group for a few years now and he is joined by Tilly, his on stage sister played by Layla Shearer.
We have a fantastic cast, supported by a brilliant group of supporting actors. This includes Maggie Benson, Clare Day, Owen, Yosef, Alana and Poppy. Dani Wood who also has been the choreographer for some of the main dances, leads our chorus.
Our back stage crew is led by Gina Pike. Who after hanging up her Pirate hat from our last panto has decided to go back to the wings as stage manager. She is joined by Clare Barker. Clare is a familiar face on stage for WADS but this is her first time back stage and Elle and Emily Chubb, who will be following in their mums footsteps in the wings, Elle as stage crew and Emily as prompt
Finishing off the crew we have Brian Sales, another WADS stalwart, as tech master along with Luke Read, Siobhan Domoney and Ray Lovell. Ray has also made many of our amazing props.
Once again this year Jenny Kingston has produced a vast amount of colourful costumes for the cast. These costumes help the actors on stage become the characters they are portraying. Jenny's experience as seamstress and costume maker for WADS and carnival, brings these costumes to life every year.
With just one more rehearsal before the main tech and then dress rehearsal, we are all looking forward to opening the doors again for our shows, and eagerly await a full audience after the last few years have been hard on us all. We hope you all enjoy the panto as much as we have creating it, and we look forward to seeing lots of happy smiling faces.
Shows are at the Wincanton Memorial Hall on Friday 25th 7.30pm and also on Saturday 26th 2pm and 7.30pm
£10 adults £5 children and Concessions.
Paul & Gina
27th January 2022
It's been a while…
Sorry we haven't blogged in a long time. It's been nearly 2 whole years since our last panto, Treasure Island, and what a couple of years it's been. With the country in and out of lockdown, we have spent a lot of time trapped in our own homes. Sometimes just trying to avoid the virus and other times isolating because of it.
In that time though, we have still managed to entertain our community with a selection of videos from songs to stories, in the form of Wadsanory. These short videos have provided some joy to those stuck inside and we also had fun doing them.
This year did see a change to the group. With members of the Wincanton Youth Theatre (WYT) management team stepping down, the remainder decided to approach WADS about rejoining the groups together. This was warmly welcomed. Not only did it mean that WYT would get needed extra support, but it also meant that the members of WYT would get more opportunities open up to them to take part in the annual WADS panto.
In the latter part of 2021, it was decided we'd put on a Christmas show "A Box Of Allsorts" Members of both groups combined to put on the show that consisted of comedy, drama, song and dance. The show was over two performances and was well received by the intimate audience which were sat in the auditorium spaced apart.
This show not only gave us the opportunity to work as one group, but also gave us all a nice way to ease back into performing on the stage, and for the older experienced back stage and tech crew to share their knowledge with the younger ones too.
So with one performance under our belts to refresh ourselves, we look forward to the next one. Robin Hood And The Babes In The Wood. This performance will introduce a selection of new comers to the group, who are part of both WYT and WADS now. These new members have fitted in so well with their professionalism to their roles within the panto. Be it a lead part, joining our chorus, or helping backstage, they are all in a great mindset to make this performance it's very best.

This year, some of our familiar faces who have been doing the panto over the last few years, unfortunately won't be on stage due to other commitments such as university, work etc. But I'm sure, as always, they will be back to support the group in any way they can, whether it's coming to see the show or helping front of house when needed.
So what is our new panto about?
Well, everyone knows the story of Robin Hood and our panto is no different. A script written by Ben Crocker and directed by Sarah Adams and co-director Jayne Bentley. Full of thigh slapping adventure, immersed in our fantastic scenery and lighting, hand made props, beautiful costumes, and of course the traditional romance. You see our hero, Robin, is living in the forest with his band of merry men, when they come across the young Maid Marion who is on the run from the mean Sheriff of Nottingham and offer her shelter. So mean is the Sheriff, he will do anything to make himself richer than his wildest dreams. Even if that means taking from his own niece and nephew.
If you want to know if he gets the money or is outwitted by the wanted out law Robin, then you will have to come and see for yourself.
The shows are being performed at Wincanton Memorial Hall on the 25th and 26th of February, see the events page for more details.
Paul and Gina
19th April 2020
The Cinderella Awards
It was around 10 to 8 that we had all dressed ourselves up even though we had nowhere to go.
Instead we found ourselves huddled around our mobile phones, laptops and tablets ready to settle in for the evenings event.
Coronavirus may have had us all in lockdown for another 3 weeks at least but this wasn't going to stop us from have a good night with friends and fellow actors and crew albeit over social media.
We waited in anticipation for the the live stream of the awards to begin and talked amongst ourselves while trying to work out who was saying what and holding 6 or 7 different conversations at once, a large number of us with drink in hand from a cup of tea to something that little bit stronger.
Then as silence fell and some one said it's starting we turned to the screen showing the live feed. There he was our presenter for the night all suited and booted and ready to tell the lucky selection who had won as we watched this figure on our screens in his colourful surroundings we thought how different it would have been if we were at the original venue where the awards were going to be held or streaming it live in a hall surrounded be those we had taken this Treasure Island journey with.
As he went through the categories and read out the nominations started with Promising Young Performers and we heard the first familiar name "James Adams Treasure Island Wincanton Amateur Dramatic Society" followed by another "Emily Mitchell Treasure Island Wincanton Amateur Dramatic Society" and another "William Adams Treasure Island Wincanton Amateur Dramatic Society" and yet again another "Romhana Mitchell Treasure Island Wincanton Amateur Dramatic Society" we waited with Bated breath and then "Codi Benson Treasure Island Wincanton Amateur Dramatic Society" 5 of our young performers award straight out of the gate, this was a fantastic start not only for those earning the reward but for their fellow WADS who were supporting them all the way.
the next 5 categories seen no mention of WADS members but we were happy to support and emoji clap our fellow panto groups as they were mentioned.
Then the category of Best Cameo was announced the second name was yet again a familiar one "Paul Adams The Fridge Treasure Island Wincanton Amateur Dramatic Society" this fantastic actor who's facial expressions just made his character along with the wig (as stated in the review) was non the wiser as at this point was frantically trying to get the live stream to work again well his social media was pinging away and he had no clue what was going on. after finding out he was happy to have had an nomination and was not expecting any thing at all.
Unfortunately the winners award wasn't awarded to him and they moved on to the next category.
Four more past with no mention of wads but then out of nowhere came a name that made our ears pricked up this time there were no nominations just an outright winner and a well deserved winner it was too. the presenter uttered the words "Best Solo Accompanist goes to
Finley Thompson Treasure Island Wincanton Amateur Dramatic Society" and therewas nomination or win number 7 for this fantastic drummer.
We didn't have to wait long after that to hear our next one. After Best Male Singer and Best Female Singer where we unfortunately didn't get a mention he then went on to say "Romantic Duet of the Year and after going over the nominations said "and the winner is Amanda Graffham & Georgina Isaacs as Jim Hawkins & Jenny Trewlaney in Treasure Island, Wincanton Amateur Dramatic Society" a win for our principal boy and girl.
It was a long wait of 12 categories and at this point a few drinks had been consumed when Adjudicator's Special Award Winners were named and it wasn't until the last name was read out that we got our 10th mention of the evening "Clare Barker as Mrs Henderson in Treasure Island, Wincanton Amateur Dramatic Society" all the time that Clare had put in to perfect her character had paid of and she was a winner.
After a short interval and a catch of messages, time to get another drink and toilet break we were into the last part of the award. It was a only 2 other awards before the main man himself our very own captain got his first mention of the night. however this was due not to his acting abilities but due to his impression of a coat hanger and the way he could display a costume. The category "Costume of the Year" (so it was Jenny our costume director who could claim this one) Long John Silver Treasure Island Wincanton Amateur Dramatic Society" and even though it was only a nomination we still felt like winners all the same.
Best Animal Act, nothing, Supernatural Goody of the Year nothing, mind you don't think we even had a supernatural goody in our panto so we let this one go. Linkman of the Year, nope, Villain of the Year, here we go we thought, can't get much more villainous than a pirate captain and as he read out the nominations the first name, nope the second, nope the third, nope it didn't seem promising , the fourth, nope that wasn't us either, the fifth name, "Jonathan Markendale Long John Silver Treasure Island Wincanton Amateur Dramatic Society, nope..........wait a second, yes, yes that's our captain. yet another nomination and as the winners name was read out the hopes of a win went down with the ship but it was another nomination to be proud of.
A few more categories past with no names of wads members being named and the awards came to an end also it seemed that our Treasure island panto could now be put behind us as we look forward to our net production Treasure Island 2020 had awarded us great reviews and 12 nominations and some wins so Robin Hood and the Babes in the wood 2021 has something to aim towards.
All in all it was a great night and a chance to catch up and chat in the safety of our own homes while the world around us can currently be a scary place.
So thank you to all that support us stay home, stay safe and we will see you all very soon.
Paul AKA The Fridge
24th March 2020
It's 11.20am as I type this and it seems like yesterday that we were all on stage performing Treasure Island. How a few months can change the way we have to socialise with others and spend time with loved ones.
Sat here in full Lock down due to the coronavirus has given me time to work on the website and to hopefully bring you all a bit of joy as you look back at the past performances in pictures and video clips and give an informative look at WADS as a group stands for and does.
Hopefully you are all keeping safe and abide to the government guidelines as it would be nice to say that we all made it through this very strange and uncertain time.
But when it's all over and i'm sure it will be we canall look forward to carrying on with getting our next performance underway and being able to entertain the people of Wincanton and the surrounding areas and get back to some sort of normality.
But for now please just all stay safe.
Paul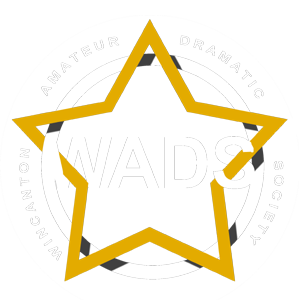 © Copyright Wincanton Amateur Dramatic Society